FREE U.S. SHIPPING FOR ORDERS OVER $99 - USE CODE: SHIPFREE DURING CHECKOUT
Home

>

Mamba X-Series Sensor Harness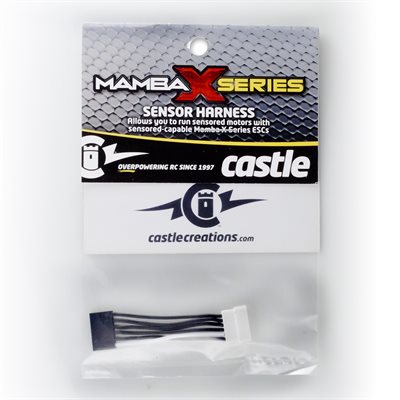 Press and move to zoom
Mouse over image to zoom
Mamba X-Series Sensor Harness
Product #: 011-0108-00
UPC code:819326011108
Sensor Harness Connection Instructions
Remove the sensor dust cover from the ESC (replace dust cover if changing back to a sensorless motor).
Insert the Sensor Harness into the ESC, orienting the Sensor Harness to match the ESC label.
Connect your sensored motor wires to the ESC. (Connect A to A, B to B and C to C.) Motor wire orientation is important; to change motor direction use Castle Link.
Connect your motor's sensor wire to the Sensor Harness.
Castle Creations, Inc. warrants this product to be free from manufacturing defects for a period of one year from date of purchase.
This product may contain chemicals known to the State of California to cause cancer and or birth defects or other reproductive harm.

Product designed in Olathe, Kansas USA.
Product made in China.