Home

>

MAMBA X SCT, SENSORED, 25.2V WP ESC AND 1410-3800KV 5MM COMBO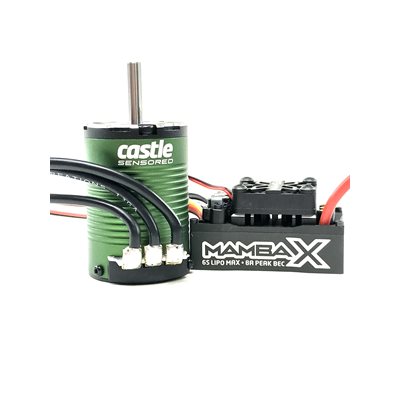 Press and move to zoom
Mouse over image to zoom
MAMBA X SCT, SENSORED, 25.2V WP ESC AND 1410-3800KV 5MM COMBO
Product #: 010-0161-01
Meet the next generation.
Castle Creations is proud to announce our new flagship surface product, the MAMBA X EXTREME 1:10 SCALE WATERPROOF ESC. We at Castle wanted to address three main concepts while designing a new ESC for the modern day RC enthusiast; VERSATILITY, RELIABILITY, and PERFORMANCE. These are the pillars of the Mamba X design and the driving forces behind the feature-packed controller.
The Mamba X is extremely versatile, capable of powering a wide variety of applications ranging from 2S to 6S and vehicles ranging from 1/10th scale to 1/8th scale*. The Mamba X with 1410-3800Kv sensored motor with 5mm shaft sensored motor is perfect for short course trucks running on 2s LiPo and weighing up to 6.5 lbs; it can be run on a 3s LiPo with very conservative gearing and keep a close eye on temperatures. It is a cooling running torque animal for lighter 1/10th scale 2WD stadium trucks and buggies running up to a 3s LiPo.

FEATURES:

ESC voltage range 2S-6S (3s maximum with included motor)
Waterproof
8A Adjustable BEC (5.25V-8.0V)
Data-logging
Rugged CNC Aluminum Case
Castle Link Programming Support
Convenient Transmitter Programming
Auxiliary Wire Functionality for "on-the-fly" adjustments

Integrated Capacitors
Removable 30mm Cooling Fan
Integrated 4mm Bullet Connectors
12 AWG Power Wires
Audible Alerts and LED Alerts for easy diagnoses of common issues
ROAR Certified ESC
RECON G6 Certified ESC
MAMBA X ESC 1410-3800 5mm COMBO COMES WITH:

Mamba X ESC with Sensor Harness
1410-3800Kv 5mm shaft 4-pole 12-slot sensored motor
Coupon for free Castle Link USB

Mamba Decals
Driver's Ed and Quick Start Guide
Gearing Chart for Castle Motors
*In 1/8th scale setups, the Mamba X is intended to be used for off-road racing in buggies weighing up to 9 lbs (including batteries and ready-to-run). In these 1/8th scale racing setups, the Mamba X should be run at 4S Lipo (16.8V) max and is recommended to be paired with the Castle 1512-1800Kv (P/N: 060-0062-00) or Castle 1515-2200Kv (P/N: 060-0063-00) motor, with appropriate gearing only.
You may also be interested in