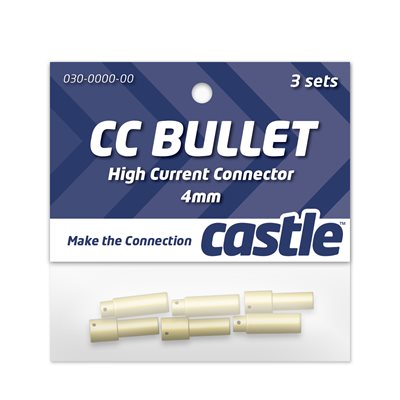 Press and move to zoom
Mouse over image to zoom
CC Bullets - 4mm
Product #: CC BULLET 4MM
UPC code:899598001052
Make the Connection!
CC Bullets are high quality, high current bullet connectors specifically made for the demands of electric RC. This package includes 3 sets of male/female 4mm bullet connectors.

This connector is used on the following ESCs: Sidewinder 3, Sidewinder SCT, Mamba Max Pro, Mamba X, Mamba Max, Sidewinder 2.

It is also used on the following motors: 1406, 1410, 1415 and CM36 sensorless and sensored brushless motors.



Accessories :

Wiring and Connectors
Availability: This item is in stock.
Technical Specs
Size:
4mm
Wire Gauge:
16-12 gauge
Max Amps:
75 amps
Castle Creations, Inc. warrants this product to be free from manufacturing defects for a period of one year from date of purchase.
This product may contain chemicals known to the State of California to cause cancer and or birth defects or other reproductive harm.

Product designed in Olathe, Kansas USA.
Product made in China.
You may also be interested in