FREE U.S. SHIPPING FOR ORDERS OVER $99 - USE CODE: SHIPFREE DURING CHECKOUT


Home

>

Castle 2028 Sensored Motor - 800Kv (MOD 6.5mm Bullets / 10AWG Wire)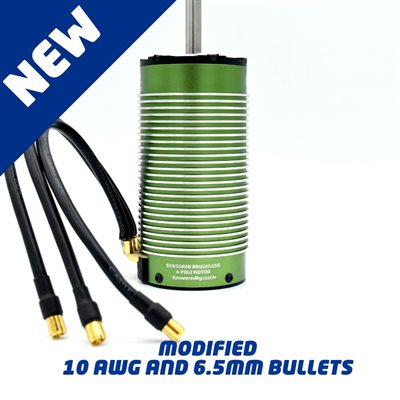 Press and move to zoom
Mouse over image to zoom
Castle 2028 Sensored Motor - 800Kv (MOD 6.5mm Bullets / 10AWG Wire)
Product #: 060-0083-00
You might be familiar with the brute 1:5 scale version of the 2028-800Kv (8AWG wire and 8mm bullets) that has overpowered large scale RC for years. Now we are offering our 1:6 scale version (paired with 010-0165-01 MAMBA MONSTER X 8S, 33.6V ESC W/2028-800KV SENSORED MOTOR, click here for details), tailored with presoldered 6.5mm bullet connections and 10AWG wire!
The Castle 2028 Extreme 800KV motor now has an IMPROVED 4-POLE 12-SLOT design that boasts exceptional EFFICIENCY and produces LESS HEAT. If you need LARGE-SCALE POWER for LARGE-SCALE VEHICLES the new BRUSHLESS SENSORED 2028-800KV motor will no doubt hold up to the heavy throttle and extended usage that 1:6th scale vehicles encounter. Running modes include Sensored and an ULTRA-EFFICIENT sensorless mode.

High-strength, high-temperature grade neodymium sintered magnets combined with High-strength Kevlar wrap ensures the integrity of the rotor is not compromised during harsh running conditions.Oversized NMB bearings and vibration dampening system ensure the longest bearing life possible.Our proprietary winding techniques allow us to produce a stator assembly that is the lowest possible resistance, resulting in a cooler running motor.Dual sensor ports to ensure optimal installation in your large-scale vehicle.Updated modern and sleek design; looks as cool as it performs.
Technical Specs

Input Voltage Range:

8S MAX (with 10 AWG and 6.5mm Bullets)

Kv:

800

Max. RPM:

45,000

Size:

Length: 4.4" (112.7mm)
Diameter: 2.2" (56.3mm)

Weight (w/wires):

44 oz./1.25kg

Shaft Size:

Length: 30mm
Diameter: 8mm

Mounting Hole Specifications:

4mm @ 30mm


Cooling Fan:

Available, but not included. See 011-0153-00 here.


Connectors:

6.5mm male connectors, 250mm sensor wire and 10AWG wires


Items Needed for Operation:

Compatible Electronic Speed Control (ESC) (see Recommended ESC(s) below)


Product Use Statements:

Monitor motor temperatures closely; overheating a motor will cause permanent damage to the magnets. Never exceed 180° F on the the motor or ESC.
Do not use mounting screws that extend more than 5mm into the front of the motor. Using too long of a screw can result in damage to the motor's windings and will not be covered by the warranty.


Application Guidelines:

Perfect upgrade for any 1:6 scale vehicles weighing up to 25 lbs and up to 8s LiPo.

Recommended ESC(s):

Mamba Monster X 8S


Max. Recommended Vehicle Weight:

25 lbs

Tech Notes:

Running modes: Sensorless and Sensored

The 2028-800KV is a water resistant design. The sensor board is coated with silicone conformal coating to protect the sensors from moisture. The sensor connections are not water resistant; water can cause signal loss which could result in loss of sensored capabilities. We recommend applying dielectric grease to the outside of the sensor wire connections after installation of the wire. Routine maintenance is recommended after running in wet conditions. Please refer to this document for running and maintaining motors in wet environments.
Castle Creations, Inc. warrants this product to be free from manufacturing defects for a period of one year from date of purchase.

This is a high power product with the potential to be very dangerous. Please read the safety information before use. This product may contain chemicals known to the State of California to cause cancer and or birth defects or other reproductive harm.

Motor designed in Olathe, Kansas USA.
Motor made in China.