FREE U.S. SHIPPING FOR ORDERS OVER $99 - USE CODE: SHIPFREE DURING CHECKOUT
Home

>

Heli

>

TALON 120 AMP, 12S / 50V WITH 20 AMP BEC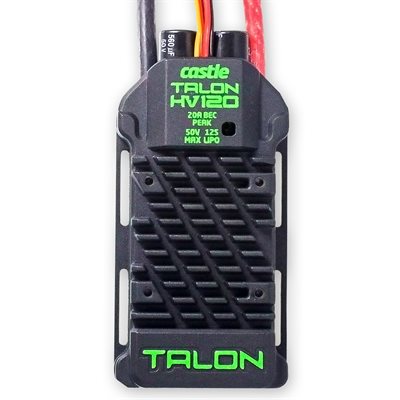 Press and move to zoom
Mouse over image to zoom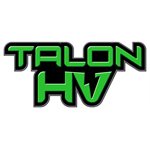 TALON 120 AMP, 12S / 50V WITH 20 AMP BEC
Product #: 010-0131-00
UPC code:819326010705
The Biggest BEC on the Block!
Talon HV 120 is the first high voltage controller to come out of the Castle factory with a built-in BEC. This powerhouse features a 20A peak BEC with selectable 6v or 8v output voltage. With a voltage input range from 3S to 12S LiPo, and a 120A continuous amperage capability, it's capable of up to 6000W of continuous power for a wide variety of heli and fixed wing applications. The sleek aluminum case keeps the ESC cool during high power demand situations. For set-ups with limited airflow, such as under canopies or in a fuselage, there is an optional 40mm fan (sold separately; operates at 4.8 - 7.4 volts). Talon HV 120 has access to Castle's industry leading software functions, and USB programming capability via Castle Link USB Adapter (coupon included)*.
* Remove BEC Power wire from receiver before connecting to Castle Link.
Technical Specs

Input Voltage Range:

MIN: 3S LiPo
MAX: 12S LiPo

Max Continuous Amperage at full throttle:

120 amps*

Max Voltage:

50.4V

BEC Voltage:

User selectable choice of 6 or 8 volts output

BEC Output:

20 amp peak**
10 amp continuous
(always check servo draw prior to first flight)

Size:

Width: 2.01" (51.1mm)
Length: 4.15" (105.4mm)
Depth: 0.80" (20.4mm)

Weight (w/wires):

6.56 oz. (186g)

Connectors:

Built-in 5.5mm female bullets, matching 5.5mm male bullets included, battery connector sold separately.

Items Needed for Operation:

Battery connectors (sold separately)

Product Use Statements:

Remove BEC Power wire from receiver before connecting to Castle Link.
Note: If using motors with stiff wires it is recommended to use extensions with flexible silicone wires to prevent stress to the female bullets on the ESC.


Application Guidelines:

Not intended for use with backup guards. If running an external BEC you must disconnect the middle wire (red) on the throttle lead and do not plug in the two-wire BEC lead.


Programmability:

Fully programmable Castle feature set using Castle Link USB adapter (coupon for free Castle Link adapter included in package) and freely downloadable Castle Link Windows software.

Telemetry Link Capable:

Yes, except Battery Current

Tech Notes:

N/A
*RC HOBBY APPLICATION RATING: 120 amps for the duration of a single 10,000 mAh battery pack with the ESC in contact with a 5 mph airflow of 25°C (77°F) or cooler air. Controller temperature must never exceed 100°C (212°F). Exceeding current or temperature ratings may damage components and may shorten the life of the ESC. Always verify system current draw at full-throttle. Decrease load or increase airflow to decrease the ESC's operating temperature.
**Peak indicates amperage sustainable for 0.5 seconds - long enough for most servos' current draw transients. Always confirm servo current draw before the first flight of the model.
Castle Creations, Inc. warrants this product to be free from manufacturing defects for a period of one year from date of purchase.

This is a high power product with the potential to be very dangerous. Please read the safety information before use. This product may contain chemicals known to the State of California to cause cancer and or birth defects or other reproductive harm.

U.S. Patent # 7400103, 7492122, 7579796, 7740516, 8287328, 8678875, and 8905814 B2 - Other patents pending.

Controller designed and circuit boards manufactured, in Olathe, Kansas USA.
Controller assembled in Olathe, Kansas USA.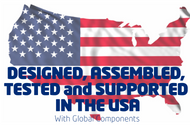 Power System Alerts
The Talon ESCs are programmed to sound a number of tunes and codes using the motor as well as flashing LED patterns to alert users to certain conditions regarding their power system, such as over temperature, excessive load and locked head speed.

Telemetry Capable
Telemetry has the potential not only to improve the safety of our models by monitoring battery voltages, ESC temperature, and other critical parameters, but it also creates other opportunities to get even more fun out of flying because you've essentially reduced the risks of "unknown" inevitable crashes. Think of the benefits to be had from alarms that will sound to warn you when there's interference about or if your receiver battery is running unexpectedly low. Requires purchase of Castle Telemetry Link for S.BUS2 (Item # 010-0152-00) and compatible Futaba Radio or Castle Telemetry Link for X-BUS (Item# 010-0148-00) and a compatible Spektrum Radio.
Warranty
Coupled with our unparalleled 1-year warranty and world-famous technical support, Castle provides confidence and peace of mind that your Talon 120 HV is a smart investment. In this day of "throw-away" electronics, put your investment in a trusted name with a proven track record of support and service.

Firmware Upgrade
Users will receive free access to all firmware updates, including added features sets using the Castle Link USB Programming Kit
Castle Link Compatible
With the Castle Link USB Programming Kit you can use your Windows™ PC to easily program your controller. Castle Link includes all code for all Castle Link compatible hobby products in one convenient download. Note: Castle Link software requires a Castle Link USB Adapter and a computer that is running Windows. Castle Link is compatible with Windows Vista, Windows 7, Windows 8 and Windows 10.Macintosh users may take advantage of software such as Parallels Desktop, VMware Fusion, or Apple's Boot Camp along with Windows Vista, Windows 7, Windows 8, or Windows10 to run the Castle Link software, provided the Macintosh has an Intel processor. Macintosh installation is not supported by Castle Creations.
Additional Castle Link benefits include:
Access expanded programming and parameters for Castle controllers (see overview below)

Access to all firmware updates, including added features sets released from Castle Engineering, at no charge.

Intuitive Demo Mode capability

Ability to default ESC to factory settings

Ability to save setup profiles for later use

Ability to download and view data logs (on applicable controllers)
You may also be interested in