FREE U.S. SHIPPING FOR ORDERS OVER $99 - USE CODE: SHIPFREE DURING CHECKOUT
Telemetry Link for Futaba S.Bus2 Resource Page
Castle Air and Surface ESC Product Compatibility Chart
Air ESC Compatibility
ESC and Data Point
Phoenix Edge and
Edge Lite
Edge HV and
Edge HV Lite
Phoenix
Ice HV 2
Phoenix Ice
and Ice Lite
Talon Series
Battery Voltage
Battery Current
Motor Power Output
RPM
BEC Voltage
Controller Temperature
Battery Ripple
Note: BEC Current will be available on future ESCs.
*There is currently a bug with the Monster X 8s and XLX2; it prevents controller temperatures from being displayed correctly. At this time we do not know the cause of or have a solution to the issue. We are still investigating and are working with Futaba to try to find a solution.

Transmitter Compatibility
R304SB / R304SB-E (4CH)
Futaba Transmitter Compatibility
Compatible Futaba S.Bus2 Transmitter
Software Version Required
Software Release Date
Known Compatible Telemetry Receiver
Link/Resources
Radio Systems - AIR

Futaba 14SG
Version 6.0
November 10, 2015
Futaba R7008SB

Futaba 16SZ

Version 3.11

Unknown
Futaba R7008SB
Software update

T16SZ Instruction Manual

Futaba 16IZ

Version 3.3+

May 2021

R7108SB

16IZ Instruction Manual


Futaba T18SZ
Version 1.5
April 5, 2016
The telemetry function requires the corresponding receiver (R7008SB and R7014SB), included in 18SZ package.

Futaba T18MZ
Version 2.6.3
April 4, 2016
The telemetry function requires the corresponding receiver (R7008SB and R7014SB), included in 18MZ package.
Radio Systems - SURFACE

Futaba T4PX
Version 1.4
August 8, 2016
R304SB / R304SB-E (4CH)

Futaba 7PX/7PXR
Initial
October 31, 2017
R324SBS / R304SB / R304SB
7PX Instruction Manual

Futaba 10PX

Version 2.1+

April 2022

R304SB / R304SB / R324SB / R334SB / R404SB

10PX Instruction Manual

ESC Configuration Resources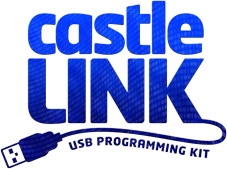 Castle Link USB Programming Instructions:
Download the interface software from our Software area.
Disconnect the AUX wire and/or Telemetry Link from the ESC, failure to do this may result in damage to your Castle Link USB Adapter.
Plug the Castle Link into the receiver lead on your controller and attach the mini USB cable included in the kit.
Connect the USB cable to your PC.
For more information, see the Castle Link page.
For more information about the Castle Link software, visit the Downloads page.
Vehicle Connection Resources
The Telemetry Link may require configuration in Castle Link. If the Telemetry Link is connected to the S.BUS2 wire or ESC, you must first disconnect them to avoid possible damage to your Castle Link USB Adapter. Then connect the brown, orange and yellow lead (labeled External Input) on the Telemetry Link to the Castle Link USB device.
Click on the "BASIC" tab.
The S.BUS2 Throttle Input default is Channel 3, which is typically assigned to the throttle stick on the Futaba transmitter. Please refer to Futaba's recommendation for setups that require modification of this selection. Assignment changes made on the transmitter may need to be changed here as well. For external governor applications, select External Input in the S.BUS2 Throttle Input drop down.
The Telemetry Link will occupy (8) SBUS2 slots. The designated start slot is 8, 16 or 24. Castle Link defaults to S.BUS2 Slot 8. The start slot can be changed if you are already using a sensor on one of these slots.
The Telemetry Data Enable checklist allows you enable/disable specific telemetry data points. This is useful if your ESC does not support one or more of the data points, or if you are not interested in a specific data point.
Click the "Update" button to save modified settings to your Telemetry Link.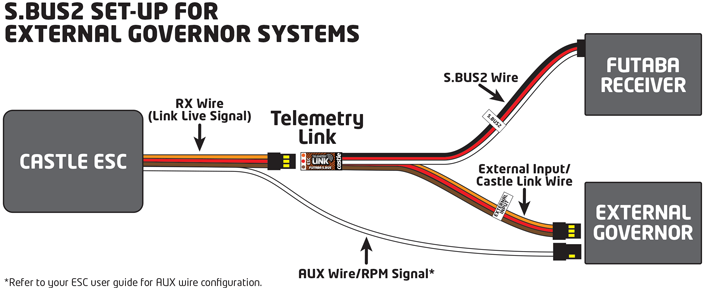 Radio Configuration Resources