FREE U.S. SHIPPING FOR ORDERS OVER $99 - USE CODE: SHIPFREE DURING CHECKOUT
Home

>

Rotor / Shaft Replacement Rebuild Kit 1412 series (3.2MM SHAFT)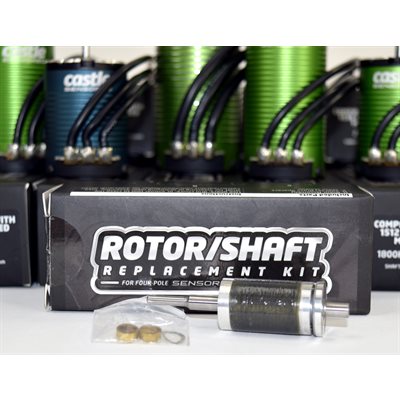 Press and move to zoom
Mouse over image to zoom
Rotor / Shaft Replacement Rebuild Kit 1412 series (3.2MM SHAFT)
Product #: 011-0132-00
Overheated your motor? Broke the output shaft? This rotor replacement kit allows you to repair a damaged rotor or shaft. It is easy to replace and contains all of the parts necessary to get your motor back up and running.

This kit works with the sensored 1412-2100kv, and 3200Kv motors. It can be used with the 1412-6400kv, but the smaller 3.2mm shaft runs a high risk of snapping in drag applications; broken shafts are not covered by the warranty.

This motor has the standard 3.2mm output shaft. If you are looking for an upgraded 5mm version, please see part number 011-0158-00 (coming soon).

If you need a replacement front end bell (shaft side) and bearing, see part number 011-0133-00.

Kit Contains:
Rotor Assembly - qty 1
Brass Spacers - qty 2
Wave Washer - qty 1

Note: This rotor replace is NOT compatible with older sensorless motors. Sensorless motors are easily identifiable by their red, black and white motor wires; sensored motors have all black motor wires.

Castle Creations, Inc. warrants this product to be free from manufacturing defects for a period of one year from date of purchase.

This is a high power product with the potential to be very dangerous. Please read the safety information before use. This product may contain chemicals known to the State of California to cause cancer and or birth defects or other reproductive harm.

Designed and supported in Olathe, Kansas USA.
Made in China.

Availability: This item is in stock.
For instructions on how to install the replacement rotor, please visit https://www.castlecreations.com/motorrepair.



Note: Replacement rotors for 17xx and 20xx series motors are not available. These parts are not serviceable and cannot be repaired or replaced. If the rotor is broken, the shaft is bent, or snapped, the entire motor must be replaced.