FREE U.S. SHIPPING FOR ORDERS OVER $99 - USE CODE: SHIPFREE DURING CHECKOUT
Home

>

DMR 30 / 40 Dedicated Multi-Rotor ESC Single Pack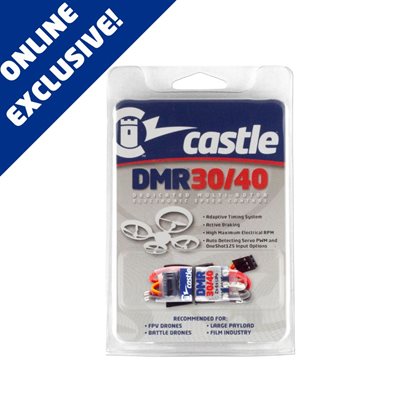 Press and move to zoom
Mouse over image to zoom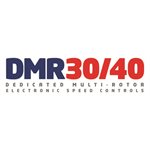 DMR 30 / 40 Dedicated Multi-Rotor ESC Single Pack
Product #: 010-0158-00
MORE POWER. MORE EFFICIENCY.
The DMR 30/40 (Dedicated Multi-Rotor) Electronic Speed Control (ESC) will change the way you fly! Recommended for set-ups pulling up to 40 amps1 and running up to 6S LiPo, your Quadcopter or Multi-Rotor platform will perform as never before.
Castle's new proprietary Adaptive Timing System (ATS)™, released with our V5 firmware, provides a noticeable power difference right out of the box. Castle's Adaptive Timing System™ technology and ultra-low internal resistance design maximizes efficiency and power output across the entire throttle range. The DMR 30/40 handles up to 25.2V (6S) power too. You'll not only feel the power increase, but see longer flight times as well.
RESPONSIVE AND STABLE.
The DMR 30/40 has enhanced throttle responsiveness that translates into flights with a more agile feel, quicker response, and no sluggishness. The DMR 30/40 also sports our improved active braking algorithm ensuring that maneuvering your multi-rotor never felt so good. Combined with Castle's exceptionally linear throttle, the DMR 30/40 delivers quick, accurate, and consistent motor response, making it simpler to dial in your PIDs.
HEAR THE RESULT!
There's nothing like it on the market! With its proprietary algorithms and technology, the DMR 30/40 literally has a unique sound that grabs attention and gets you noticed. Our pilots have raved about the Castle V5 "turbo sound" that signals their ability to fly faster, longer, and corner with more precision.
CONVENIENCE.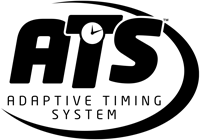 Castle DMR 30/40 default settings have you ready to fly right out of the package within seconds. These convenient features include:
Advanced rotorSENSE2 allows elegant simplicity in throttle calibration and setting motor direction.
Adaptive Timing System (ATS) continuously optimizes motor timing during flight.
Auto-detecting input signal selects between Servo PWM, OneShot, and OneShot125.
Motor PWM frequency is dynamically modulated for optimum performance.
COMPACT and LIGHTWEIGHT.
Castle's DMR 30/40 has a small footprint and a high power-to-weight ratio, a pillar of Castle's long history of ESC designs. At a weight-conscious 5.2 grams3 this ESC delivers over 1kW, good things DO come in small packages.
RELIABILITY.
No one wants down time at the field. Don't let its size fool you, this ESC won't fail you mid-flight or after a "rough landing". Castle brings a robust hardware design to the multi-rotor market that's simply hard to find these days. Although compact and lightweight, the DMR 30/40 is designed for the harsh and unforgiving life of a multi-rotor ESC.
Coupled with our unparalleled 1-year warranty4, lifetime Tier Two "crash warranty", and world-famous technical support, Castle provides confidence and peace of mind that your DMR 30/40 ESC is a smart investment. In this day of "throw-away" electronics, put your multi-rotor investment in a trusted name with a proven track record of support and service.
FLEXIBILITY.
The DMR 30/40 has been rigorously tested with a wide range of motors commonly available on the market, giving flexibility and worry-free operation again and again. The high maximum electrical RPM allows you to run some of the fastest motors available today and at higher voltages – all the way up to 25.2V (6S LiPo).
While pre-programmed for your Multi-Rotor, the DMR 30/40 also allows access to all settings through our patented receiver wire communications5 via a Castle Link USB adapter. Additionally, the DMR delivers on the Castle promise to provide downloadable firmware updates allowing for future support and feature upgrades as they become available.
Features
Adaptive Timing System™ (ATS™) technology

Ultra-low internal resistance design

Ready to fly out of the package with exclusive Castle "Turbo Sound"

High power to weight ratio: Over 1kW from a 5.2g ESC3

Advanced rotorSENSE2 allows elegant simplicity in throttle calibration and setting motor direction

Auto-detecting input signal selects between Servo PWM, OneShot, and OneShot125

Dynamic motor PWM frequency

High maximum electrical RPM to support some of the fastest motors available

Improved active braking algorithm

Wide input voltage range for a maximum variety of applications and flight times

Programmable via Castle Link USB adapter or Castle Field Link

Designed, manufactured, and supported from Olathe, KS USA
Best Suited For:
FPV Racing Drones

Battle Drones

Large Camera Carrying Multi-Rotors

Heavy Lift Multi-Rotors
Looking for…
…high power-to-weight ratio,

…high efficiency,

…a fast, agile and responsive feel for your multi-rotor,

…and service and support from a trusted company?
Look no further. The DMR 30/40 is here. Order today.
1. Board weight only. Wire weight not included. Power estimated at 25.2V, 40A, full throttle, and 40mph airflow
2. Advanced rotorSENSE is inspired by ImmersionRC rotorSENSE
3. Weight without wires
4. Castle Creations, Inc. warrants this product to be free from manufacturing defects for a period of one year from date of purchase.
5. U.S. Patent # 7400103, 7492122, 7579796, 7740516, 8287328, 8678875, and 8905814 B2 - Other patents pending.
Minimum Input Voltage :

2S

Maximum Input Voltage :

6S
Availability: This item is in stock.
Technical Specs

Input Voltage Range:

MIN: 6.0V
MAX: 25.2V

Current @ 5mph airflow*:

30A

Current @ 40mph airflow*:

40A

Size:

Width: 0.72" (18.2mm)
Length: 1.72" (43.7mm)
Depth: 0.32" (8.1mm)

Weight (w/wires):

0.63 oz. (17.8g)
0.32 oz (9g) without wires

Items Needed for Operation:

Battery connectors (sold separately)

Motor connectors (sold separately)

Product Use Statements:

N/A

Application Guidelines:

FPV racing drones, battle drones, large camera carrying multi-rotors, heavy-lift multi-rotors

Programmability:

Fully programmable Castle feature set using Castle Link USB adapter (sold separately) and freely downloadable Castle Link Windows software.

Telemetry Link Capable:

No

Tech Notes:

1) Please note that the response rate in this ESC is HIGH and you will need to start with lower PIDS. We suggest starting at 50% of other brands.

2)Current is specified as the maximum value the ESC can handle at full throttle for the duration of a single 4,000 mAh battery pack with the ESC in the specified speed of 25°C (77°F) or cooler airflow. Controller temperature must never exceed 100°C (212°F). Exceeding current or temperature ratings may damage components and may shorten the life of the ESC. Always verify system current draw at full-throttle. Decrease load or increase airflow to decrease the ESC's operating temperature.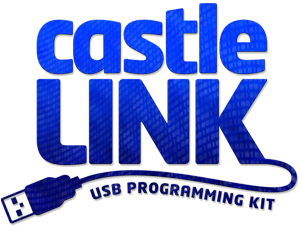 Castle Link Compatible
With the Castle Link USB Programming Kit you can use your Windows™ PC to easily program your controller. Adjustable settings include:
Motor direction

Power-On Beep

Cutoff voltage

Active Braking

Spool up speed

Motor start power

Idle Brake

And many more!
Additional Castle Link benefits include:
Access to all firmware updates, including added features sets released from Castle Engineering, at no charge.

Intuitive Demo Mode capability

Ability to default ESC to factory settings

Ability to save setup profiles for later use

Ability to download and view data logs (on applicable controllers)
You may also be interested in