FREE U.S. SHIPPING FOR ORDERS OVER $99 - USE CODE: SHIPFREE DURING CHECKOUT
Home

>

Heli

>

Polarized Castle Connectors - 6.5mm Male Multi-Pack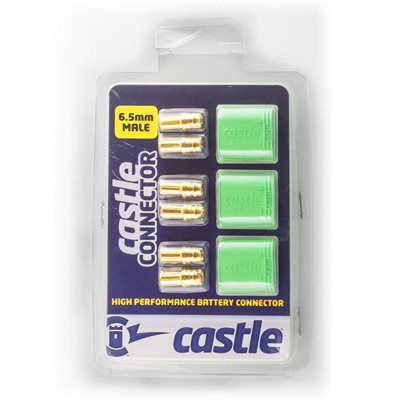 Press and move to zoom
Mouse over image to zoom
Polarized Castle Connectors - 6.5mm Male Multi-Pack
Product #: 011-0068-00
UPC code:819326010514
Green Means GO!
Polarized Castle Connectors are high quality, high current polarized connectors specifically made for the demands of electric RC. Perfect for use with batteries, ESCs, charger leads, parallel and series harnesses, high current amp/watt meters, and anything else that needs extremely high current.
This package includes 6 male connectors, and 3 housings.
Note: Male designation of connector is determined by the metal bullet connector, not the plastic housing.
Features:
Side ridges on the housing to make them easier to grip
Marked for "ESC" for easy reference
Technical Specs
Connector Size:
6.5mm
Dimensions:
Combined: 0.91" (23mm) x 1.19" (30.22mm) x 0.52" (13.3mm)
Female: 0.91" (23mm) x 0.89" (22.5mm) x 0.52" (13.3mm)
Male: 0.91" (23mm) x 0.94" (23.9mm) x 0.52" (13.3mm)
Weight:
6M/3H Combined: 1.05 oz. (30g)
Max wire gauge:
8 AWG
Max amps:
200A continuous
For support, frequently asked questions, technical documents, and more, visit our support site.
You may also be interested in