Home

>

CC BEC PRO 20A MAX OUTPUT, 12S (50.4 VOLTS) MAX INPUT SWITCHING REGULATOR
Press and move to zoom
Mouse over image to zoom
CC BEC PRO 20A MAX OUTPUT, 12S (50.4 VOLTS) MAX INPUT SWITCHING REGULATOR
Product #: 010-0004-01
UPC code:899598001717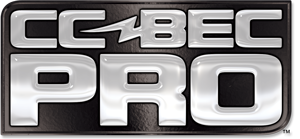 Power Management
CC BEC Pro (Battery Eliminator Circuit) is a small device that eliminates the need for a receiver battery. It draws voltage from the motor batteries and drops it to a voltage level that is suitable for your receiver and servos. This is required in applications which use high-power servos, where the ESC does not have an internal BEC, or the existing BEC is inadequate.
The CC BEC Pro is designed to operate at up to 12S LiPo (50.4V) with a 20A* peak servo load. Generally used for 1/5 scale cars or cars utilizing multiple high powered digital servos, lights, winches and other accessories. It is also useful in larger airplanes using 4 or more digital servos. Perfect for 500 size or larger helis.
Availability: Note-This item is out of stock and will be backordered.
CC BEC Comparison Chart
CC BEC 1.0

CC BEC Pro
CC BEC 2.0
CC BEC 2.0 WP
Part Number:
010-0004-00
010-0004-01
010-0154-00
010-0153-00
Common applications:
Crawlers, Racing, Sport Planes, Night Flyers
Helis, 1/5th Scale Cars, Giant Scale Planes, UAS
Helis, Planes, UAS, Racing
Crawlers, Marine, Sea Planes, UAS, Industrial
Waterproof:
No
No
No
Yes
Peak current:
10A
20A
14A (dependent upon input and output voltage)
15A (dependent upon input and output voltage)
Continuous current1:
2S-3S: 7A
3S-6S: 5A
2S-4S: 15A
5S-6S: 13A
7S-8S: 11A
9S-10S: 9A
11S-12S: 8A
4.75-7.0V output: 9A
7.25V-8.5V output: 8A
8.75V-10.0V output: 7A
10.25-12.0V output: 6A
4.75- 6.0V output: 10A
6.25-8.5V output: 9A
8.75-10.0V output: 8A
10.25-12.0V output: 7A
Max volts:
6S (25.2V)
Surface: 8S (33.6V)
Air (w/Brake): 10S (42.0V)
Air (No Brake): 12S (50.4V)
Surface: 12S (50.4V)
Air (W/Brake): 12S (50.4V)
Air (No Brake): 14S (58.8V)
Surface 12S (50.4V)
Air (w/Brake): 12S (50.4V)
Air (No Brake): 14S (58.8V)
Adjustable output voltage2:
4.8 to 9V
4.9 to 12.5V
4.75 to 12V
4.75 to 12V
Default setting:
5.1V
5.1V
5.25V
5.25V
Length:
1.7" (43mm)

1.86" (47mm)
1.69" (43mm)
1.37" (35mm)
Width:
0.57" (15mm)

1.30" (33mm)
0.56" (14mm)
0.69" (18mm)
Height:
0.48" (12mm)
0.86" (22mm)
0.32" (8mm)
0.75" (19mm)
Shipped weight3:
0.53 oz. (15.2g)
1.4 oz. (40g)
0.7 oz. (21g)
1.0 oz. (28g)
Footnotes:
1. Ratings are determined with a 5mph airflow at 25° C (77° F).
2. Adjustable Output Voltage may be set with Castle Link (sold separately).
3. Weight with full length wires, power wires may be shortened to save weight depending on application.
Technical Specs
Max Amps:

20 amps peak*
Max continuous current*
16V input = 15A
24V input = 13A
32V input = 11A
40V input = 9A
48V input = 8A

Max Input Voltage:
Cars: 8s (33.6V)
Airplanes: 10s (42V)
Helicopters (Airplane with brake disabled): 12s (50.4V)
Adjustable Output Voltage**:
4.9V to 12.5V
(Factory default voltage: 5.1V)
**Voltage must be changed via Castle Link (sold separately)

Size:
Width: 1.30" (33mm)
Length: 1.86" (47mm)
Height: 0.86" (22mm)
Weight:
1.4 oz. (40g)

Connectors:
N/A
Items Needed for Operation:
Battery connectors (sold separately)
Product Use Statements:
Read all wiring diagrams and usage advisories before using CC BEC Pro; PDF versions of the included manuals can be found on our support site. Not intended for use in wet conditions, BEC is not waterproof.

Application Guidelines:
Generally used for 1/5 scale cars or cars utilizing multiple high powered digital servos, lights, winches and other accessories. It is also useful in larger airplanes using 4 or more digital servos. Perfect for 500 size or larger helis and UAS.

Programmability:
Yes, output voltage can be changed via Castle Link (sold separately)

Telemetry Link Capable:
N/A
Tech Notes:
*Ratings are determined with a 5mph airflow on the BEC
You may also be interested in