FREE U.S. SHIPPING FOR ORDERS OVER $99 - USE CODE: SHIPFREE DURING CHECKOUT
Service Advisory 2011-01: Hydra Ice HV Capacitor Value
April 8, 2011
Advisory applies to: Castle Hydra Ice HV 200 ESCs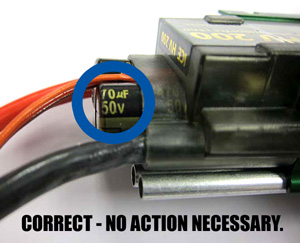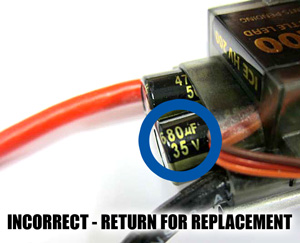 A recent batch of Hydra Ice HV 200 controllers was produced incorrectly. Distributors and dealers should simply return any of these controllers that are currently in your stock directly to Castle for immediate replacement.
Consumers who already have the ESC can perform a visual inspection of the controller to determine if it is from the affected batch.
A number of controllers were produced and shipped with one or both capacitors rated at 35V. These should be 50V parts.
Each capacitor's voltage rating is clearly printed on the side of the component. In this case, the capacitors protrude beyond the plastic end cap of the controller making visual inspection a very simple matter.
INSPECTION INSTRUCTIONS
Confirm that both capacitors on the controller are 50V components. Refer to the photos to the right as a guide.
470 uF, 50V capacitor = CORRECT. No further action is necessary. Please use the controller.
680 uF, 35V capacitor = INCORRECT. Do not use this controller. Return to Castle for Immediate replacement.
REPLACEMENT PROCEDURE
To send your ESC in for replacement, click here and follow these steps.
Enter your information.
Print the order confirmation.

Ship to Castle via a traceable delivery service:
Castle Creations, Inc.
Service Department
540 N. Rogers Rd.
Olathe, KS 66062
Please be sure to include a copy of the order confirmation in your package.
Castle Creations cannot be held responsible for lost or damaged shipments, or packages that do not arrive at Castle. Please be sure to properly package your item (putting your product in a white envelope and dropping it in the mailbox is not a good idea), and use adequate postage. Packages shipped with incorrect postage will be refused.
If you have any questions or would like to check the status of a repair please contact us at kEncEmailsfqbjstAdbtumfdsfbujpot/dpn.