FREE U.S. SHIPPING FOR ORDERS OVER $99 - USE CODE: SHIPFREE DURING CHECKOUT
Service Advisory 2010-04: CC BEC PRO
August 26, 2010
Advisory applies to: Castle CC BEC PRO units without a label identifying them as version 2, for the old case style pictured below.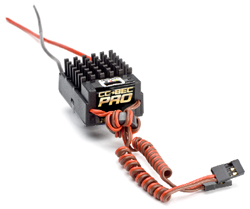 Description:
Excessive vibration or shock may damage or dislodge components within the CCBEC PRO Ver. 1. Note that the vast majority of users report no problems with these devices.
Repair procedure:
Parts on the circuit board are inspected and upgraded as needed by Castle service technicians. This inspection and upgrade are optional. To have this work performed, return your CC BEC Pro to Castle Creations, Inc. by clicking here and following these steps.
Enter your information.

Print the order confirmation.

Ship to Castle via a traceable delivery service:

Castle Creations, Inc.
Attn: Repairs
540 North Rogers Road
Olathe, Kansas 66062
Please be sure to include a copy of the order confirmation in your package.
Castle Creations cannot be held responsible for lost or damaged shipments, or packages that do not arrive at Castle. Please be sure to properly package your item (putting your product in a white envelope and dropping it in the mailbox is not a good idea), and use adequate postage. Packages shipped with incorrect postage will be refused.
If you have any questions or would like to check the status of a repair please contact us at kEncEmailsfqbjstAdbtumfdsfbujpot/dpn.