FREE U.S. SHIPPING FOR ORDERS OVER $99 - USE CODE: SHIPFREE DURING CHECKOUT
Home

>

Free Castle Link USB adapter with Coupon-IN STOCK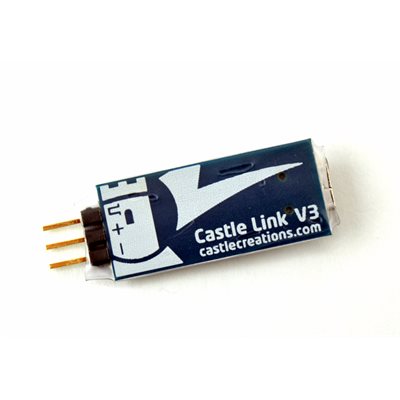 Press and move to zoom
Mouse over image to zoom
Free Castle Link USB adapter with Coupon-IN STOCK
Product #: 011-0007-00
UPC code:#N/A


Redeem your free Castle Link USB adapter by entering a quantity of 1 and proceed to checkout where you will be prompted to enter a valid coupon code. The coupon code is valid for US POST only. After entering your coupon code press "APPLY COUPON" to receive your discount.

NOTE: A VALID CREDIT CARD OR PAYPAL ACCOUNT MUST BE ENTERED TO PROCEED. ONLY EXPEDITED OR INTERNATIONAL SHIPPING METHODS WILL BE CHARGED. YOU WILL HAVE AN OPTION TO REMEMBER YOUR PAYMENT INFORMATION FOR FUTURE PURCHASES.

You may continue to shop or immediately check out.

If you need additional programming kits or information visit the Castle Link USB Programming Kit main page.
To learn more about Castle Link or to download the latest version, visit the Castle Link software page.

Castle Link contains a proprietary interface adapter. USB cable sold separately. NOW WITH MICRO USB PORT!
System Requirements: Castle Link is compatible with Windows Vista, Windows 7, Windows 8, Windows 10 and Windows 11.
Note: Macintosh users may take advantage of software such as
Parallels Desktop
,
VMware Fusion
, or Apple's
Boot Camp
along with Windows Vista, Windows 7, Windows 8 and Windows 10. to run the Castle Link software, provided the Macintosh has an Intel processor. Macintosh installation is not supported by Castle Creations.
You may also be interested in