FREE U.S. SHIPPING FOR ORDERS OVER $99 - USE CODE: SHIPFREE DURING CHECKOUT
Home

>

CC Pinion - 32P - 18 Tooth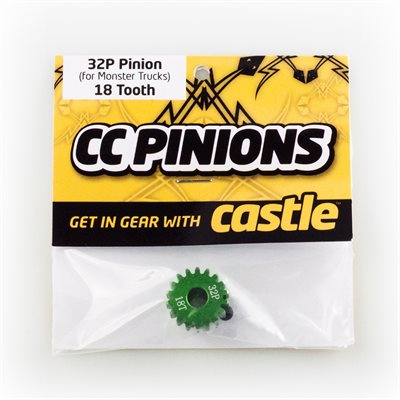 Press and move to zoom
Mouse over image to zoom
CC Pinion - 32P - 18 Tooth
Product #: 010-0065-01
UPC code:899598001427
32 pitch/Mod 0.8 Castle Creations pinions are machined from green anodized aluminum, and use the biggest Allen head set screw possible. 32 pitch/Mod 0.8 pinions are commonly used with 1/8th monster trucks like the Traxxas E-Maxx and E-Revo.

Available in 16T, 18T, 20T, 22T, 24T, 26T, and 28T.

Our pinions use a 5mm bore and includes a 4mm set screw; requires a 1.5mm hex wrench to secure the pinion to the motor shaft.
This product may contain chemicals known to the State of California to cause cancer and or birth defects or other reproductive harm.

Product designed in Olathe, Kansas USA.
Product made in China.
You may also be interested in