FREE U.S. SHIPPING FOR ORDERS OVER $99 - USE CODE: SHIPFREE DURING CHECKOUT
Home

>

Phoenix Edge Arming Lockout Harness and Key with Lanyard Assembly
Press and move to zoom
Mouse over image to zoom
Phoenix Edge Arming Lockout Harness and Key with Lanyard Assembly
Product #: 011-0067-00
The Castle Creations Arm Lock Key Harness attaches to the AUX LINE and the receiver, and is designed to act as an extra safety measure while operating your RC Heli or Airplane*. When the key is fully seated into the socket, the controller will be incapable of arming. Once the key is removed, the ESC will arm when it receives the low throttle command on the traditional throttle line. If the key is inserted while the motor is running, the ESC will go into the ARM LOCKOUT state stopping the motor from running and preventing the ESC from arming.

Redeem your free Arm Lock Harness by entering a quantity of "1" and proceed to checkout where you will be prompted to enter a valid coupon code. After entering your coupon code press "APPLY COUPON" to receive your discount.

NOTE: A VALID CREDIT CARD OR PAYPAL ACCOUNT MUST BE ENTERED TO PROCEED. YOU WILL HAVE AN OPTION TO REMEMBER YOUR PAYMENT INFORMATION FOR FUTURE PURCHASES.
TO OUR CUSTOMERS IN THE 48 CONTIGUOUS STATES: EXPEDITED SHIPPING METHODS WILL BE CHARGED, OTHERWISE WE WILL SHIP VIA US POST.
TO OUR INTERNATIONAL CUSTOMERS: WE ARE THRILLED TO OFFER YOU A COMPLIMENTARY ITEM AS A TOKEN OF OUR APPRECIATION FOR YOUR CONTINUED SUPPORT. HOWEVER, WE MUST INFORM YOU THAT WITH THE INTERNATIONAL SHIPPING LOGISTICS AND COSTS INVOLVED, THERE WILL BE A SHIPPING CHARGE ASSOCIATED WITH THIS FREE ITEM.OUR INTENTION IS TO ENSURE THE SAFE AND TIMELY DELIVERY OF THE CASTLE LINK TO YOUR LOCATION. OUR AIM IS TO PROVIDE YOU WITH THE BEST POSSIBLE EXPERIENCE, AND CHARGING FOR SHIPPING ALLOWS US TO ACHIEVE THIS. OUR SHIPPING CHARGES ARE CALCULATED BASED ON THE ACTUAL SHIPPING COSTS, AND WE DO NOT MARK UP A PROFIT FROM THEM.

You may continue to shop or immediately check out.
Availability: This item is in stock.
Before completing any of the following steps, make sure that the Edge ESC's AUX LINE mode is set to "Arm Lock Key". This setting can be found on the "OTHER" tab in the Castle Link software.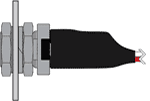 Wiring Diagram
Connect the black/red/white wire to the Aux Line (white wire) on an Edge ESC. Connect the black/red wire to any servo wire with a Y-harness or to any empty channel on the receiver.

Operation
Key in socket OR disconnected wire in socket harness = ARM LOCKED. A properly programmed and wired Edge will be incapable of arming when the key is in the socket.

This product may contain chemicals known to the State of California to cause cancer and or birth defects or other reproductive harm.

Product designed in Olathe, Kansas USA.
Product made in China.