CASTLE WILL BE CLOSED ON NOV. 26 AND 27 IN OBSERVANCE OF THE THANKSGIVING HOLIDAY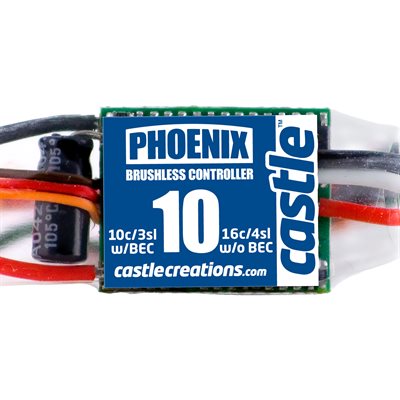 Press and move to zoom
Mouse over image to zoom
Phoenix 10 ESC
Product #: 010-0023-00
UPC code:850866000191
Smaller, lighter, and less expensive.
The versatile Phoenix-10 can be used in aircraft or helicopter applications and is ideal for Astro 010, Hacker B-20, Mini 1615, and CD-ROM motor applications.
As an aircraft ESC, the Phoenix-10 is superbly suited for micro flyers. With several cut-off choices to choose from, this little beauty has cut-off settings for 2, 3, and 4 cell Lithium Ion and Lithium Polymer packs, yet it works just as well with NiCad and NiMH cells. An optional brake, over-current protection, and a host of other features make this the sensorless to own!
Piccolo and Hornet helicopter owners couldn't believe this little gem when it was introduced. Disabled brake, low cut-off voltage, fixed end points and rotor governor in one unit at an unbeatable price make the Phoenix-10 the choice of micro heli flyers everywhere.
With it's unparalleled feature set, the Phoenix-10 is an excellent ESC for both beginners and expert flyers. It's features allow a single investment to grow with your flying needs.
Technical Specs
Volts w/BEC:
12.6 max
Volts w/o BEC:
19.2 max
LiPo cells w/BEC:
3S max
LiPo cells w/o BEC:
4S max
NiCad or NiMh cells w/BEC:
10 max
NiCad or NiMh cells w/o BEC:
16 max
Continuous:
10 amps
Switching rate:
12,500 hz
Resistance:
0.013 ohms
Brake:
Yes
Reversible:
Yes - change any two wires
Low voltage cut-off:
Programmable
Size:
0.73" x 0.8" x 0.16"
Weight (w/wires):
0.21 oz (6g)
Connector type:
Universal
Availability: Discontinued