Home

>

Sidewinder Micro 2 Sport 1:18 Scale ESC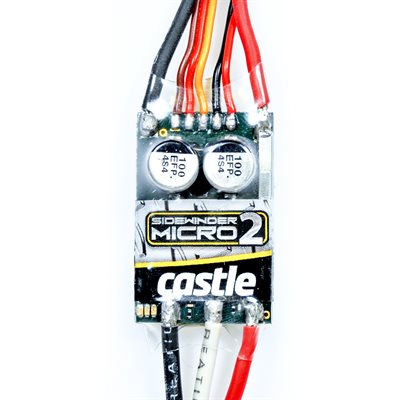 Press and move to zoom
Mouse over image to zoom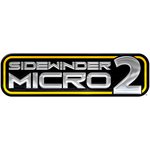 Sidewinder Micro 2 Sport 1:18 Scale ESC
Product #: 010-0150-00
UPC code:819326011115
Awesome, Affordable Micro Performance!
Sidewinder Micro 2 is our entry level 1:18 scale controller capable of 2S - 3S LiPo, with a 2 amp peak BEC, and is perfect for 1:18 scale 2WD vehicles and smaller 4WD (up to 2 lbs.) such as the Team Associated RC18B2 or Dromida SC4. Whether you are converting to a brushless setup or simply want more power than your current brushless power system is putting out, Sidewinder Micro 2 is the perfect controller to fit your needs.
Not intended for 1/16th scale or 1/14th scale vehicles (IE Losi Mini-8ight/T, Traxxas Mini E-Revo)
Sidewinder Micro 2 features:
Adjustable BEC functionality: 5.5V or 7.5V (default 5.5V)
The ability to diagnose and resolve problems in the field are made easy as this ESC will communicate with audible tones when certain conditions are present. Alerts are present for start fail, voltage cutoff, radio glitch, over-temperature, over-current and excessive load detections.
Updated circuitry and refined software makes for ultra-smooth starts.
Link Live to communicate power system information to an external device. This feature, when enabled, will allow users to experience real-time telemetry data such as battery voltage, ESC temperature, motor power output and battery ripple. Compatibility with the Futaba S.BUS® T4PX transmitter (requires purchase of

Castle Telemetry Link for S.BUS2

).
Manual programming settings include Brake/Reverse Type, Voltage Cutoff, Brake Amount, Drag Brake and Motor Type.
Technical Specs
Input Voltage Range:
MIN: 2S LiPo
MAX: 3S LiPo
4-9 cell NiMH
BEC Specifications:
2A Peak BEC, Adjustable: 5.5V or 7.5V, default 5.5V
Operating Environment:
N/A
Brake:
Proportional
Reversible:
Yes, but can be disabled for racing

On/Off Switch:
Yes
Cooling Fan:
No
Size:
L: 1.5" (38mm)
W: 0.87" (22mm)
H: 0.5" (12.7mm)
Weight (w/wires):
0.92 oz. (26g)
Connectors:
3.5mm bullet connectors on the motor wires
Items Needed for Operation:
Battery connectors
Product Use Statements:
Not intended for use in wet conditions, ESC is not waterproof
Application Guidelines:
1:18th scale RC hobby vehicles weighing up to 2 lbs.
Recommended Motors:
Castle 0808 4100Kv: Max Cells: 3S LiPo or 9 NiMH
Castle 0808 5300Kv: Max Cells: 3S LiPo or 9 NiMH
Castle 0808 8200Kv: Max Cells: 2S LiPo or 7 NiMH
Max. Recommended Vehicle Weight:
2lbs.
Programmability:
Fully programmable Castle feature set using Castle Link USB adapter (sold separately) and freely downloadable Castle Link Windows software.
Telemetry Link Capable:
Yes
Tech Notes:
The Sidewinder Micro 2 has 3.5mm bullet connectors on the motor wires and the battery input wires are bare. You must add the connector of your choice to the battery leads. We recommend a high current connector rated for at least 40 amps.
Castle Creations, Inc. warrants this product to be free from manufacturing defects for a period of one year from date of purchase.

This is a high power product with the potential to be very dangerous. Please read the safety information before use. This product may contain chemicals known to the State of California to cause cancer and or birth defects or other reproductive harm.

U.S. Patent # 7400103, 7492122, 7579796, 7740516, 8287328, 8678875, and 8905814 B2 - Other patents pending.

Controller designed, and circuit boards manufactured, in Olathe, Kansas USA.
Controller assembled in Mexico.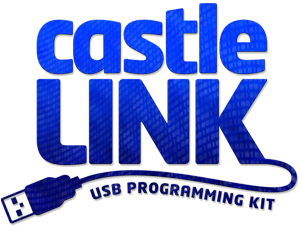 Castle Link Compatible
With the Castle Link USB Programming Kit you can use your Windows™ PC to easily program your controller. Adjustable settings include:
Throttle
Braking curve
Drag brake
Auto LiPo cutoff
Punch Control
Reverse Type
Motor Type
Additional Castle Link benefits include:
Access to all firmware updates, including added features sets released from Castle Engineering, at no charge.
Intuitive Demo Mode capability
Ability to save setup profiles for later use

You may also be interested in