Home

>

Multi-Rotor 35 Expansion Pack with No BEC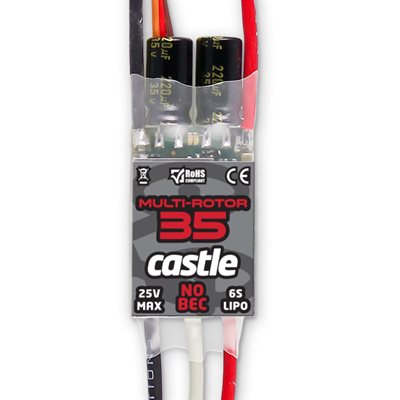 Press and move to zoom
Mouse over image to zoom
Multi-Rotor 35 Expansion Pack with No BEC
Product #: 010-0137-00
UPC code:819326010811
For the last few years our Multi-Rotor ESCs have been providing R/C enthusiasts with some of the most versatile and inventive systems ever devised.
We were just getting started!
We are excited to introduce our V5 software upgrade which will make your Castle Multi-Rotor 25 and 35 ESCs seem like entirely new products!
Features:
Wide input voltage range (6-25.2V)
High Maximum electrical RPM (300,000 eRPM) - a must have for FPV racers! Adaptive Timing System for Increased Power and Efficiency
Low Internal Resistance for Maximum Efficiency
Low Latency Throttle Response - provides better stability and control! Auto Detecting Servo PWM (500HZ) and OneShot 125 (4Khz) input options
Very Linear Throttle Response - improves "feel" in flight! Active Braking - quicker throttle response when decelerating!
Programmable via Castle Link USB Adapter - the Castle Link software suite offers industry leading software functions and programming capability as well as access to all firmware updates and new features at no cost!
Throttle Calibration and Motor Direction can be easily set in the field Two versions - one with a low noise 5.6V 5A switching Battery Eliminator Circuit (BEC) and one with no BEC to reduce weight
Best Suited For:
FPV Racing Drones
Battle Drones
Large Camera Carrying Multi-Rotors
Large Payload Carrying Multi-Rotors
Click here to update your Multi-Rotor software now to take advantage of these new features!
This expansion pack contains one ESC with no onboard BEC.
Now supporting 4Khz including OneShot 125 for faster signaling and improved stability during all aspects of flight from a simple hover to the most extreme maneuvers.
QuadPack 35 comes preprogrammed for Multi-Rotor platforms and is recommended for platforms ranging from 450 to 650 sizes pulling up to 35 amps** and running up to 6S LiPo. As with all Castle ESCs, this product is easily programmable using the Castle Link USB adapter (sold separately).
Technical Specs
SPECIFICATIONS
MINIMUM
TYPICAL
MAXIMUM
Operating Input voltage
6.0V
25.2V
Operating BEC Input Voltage (no BEC)1
4.5V
8.0V
BEC Input Current @ 12V, 100,000 eRPM (no BEC)1
58.2 mA
Current @ 5mph (8km/h) airflow2
35.0A
Current @ 40mph (64 km/h) airflow2
50.0A
PWM Switching Frequency (kHz)
8-16, Dynamic

Characteristics at 25°C (77°F) unless stated otherwise.

1Specification only applies to the Multi-Rotor 35 "NO BEC" units. "NO BEC" units require a BEC supply voltage in order to operate. It is recommended to use the supply from a Multi-Rotor 35 "w/BEC" unit to power Multi-Rotor 35 "NO BEC" units.

2Current is specified as the maximum value the ESC can handle at full throttle for the duration of a single 4,000 mAh battery pack with the ESC in the specified speed of 25°C (77°F) or cooler airflow. Controller temperature must never exceed 100°C (212°F). Exceeding current or temperature ratings may damage components and may shorten the life of the ESC. Always verify system current draw at full-throttle. Decrease load or increase airflow to decrease the ESC's operating temperature.

Dimensions

Width: 0.88" (22.4mm)
Length: 1.93" (49mm)
Depth: 0.33" (8.4mm)

Weight with wires (w/BEC)
0.889 oz. (25.2g)
Weight without wires (w/BEC)
0.462 oz (13.1g)
Weight with wires (no BEC)
0.854 oz. (24.2g)
Weight without wires (no BEC)
0.427 oz (12.1g)
Items needed for operation or installation

Battery connector and motor connectors sold separately

Programmability
Fully programmable Castle feature set using Castle Link USB adapter (sold separately) and freely downloadable Castle Link Windows software.
Castle Creations, Inc. warrants this product to be free from manufacturing defects for a period of one year from date of purchase.

This is a high power product with the potential to be very dangerous. Please read the safety information before use. This product may contain chemicals known to the State of California to cause cancer and or birth defects or other reproductive harm.

U.S. Patent # 7400103, 7492122, 7579796, 7740516, 8287328, 8678875, and 8905814 B2 - Other patents pending.

Controller designed, and circuit boards manufactured, in Olathe, Kansas USA.
Controller assembled in Mexico.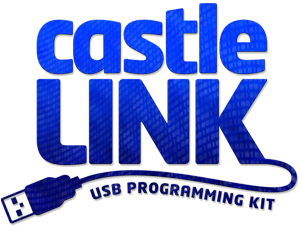 Castle Link Compatible
With the
Castle Link USB Programming Kit
you can use your Windows™ PC to easily program your controller. Castle Link includes all code for all Castle Link compatible hobby products in one convenient download. Note: Castle Link software requires a Castle Link USB Adapter and a computer that is running Windows. Castle Link is compatible with Windows Vista, Windows 7, Windows 8 and Windows 10. Macintosh users may take advantage of software such as Parallels Desktop, VMware Fusion, or Apple's Boot Camp along with Windows Vista, Windows 7, Windows 8, or Windows 10 to run the Castle Link software, provided the Macintosh has an Intel processor. Macintosh installation is not supported by Castle Creations.

Additional Castle Link benefits include:
Access expanded programming and parameters for Castle controllers (see overview below)
Access to all firmware updates, including added features sets released from Castle Engineering, at no charge.
Intuitive Demo Mode capability
Ability to default ESC to factory settings
Ability to save setup profiles for later use
Ability to download and view data logs (on applicable controllers)