CASTLE WILL BE CLOSED ON DECEMBER 3RD AND 4TH FOR OUTBOUND SHIPMENTS DUE TO PHYSICAL INVENTORY

---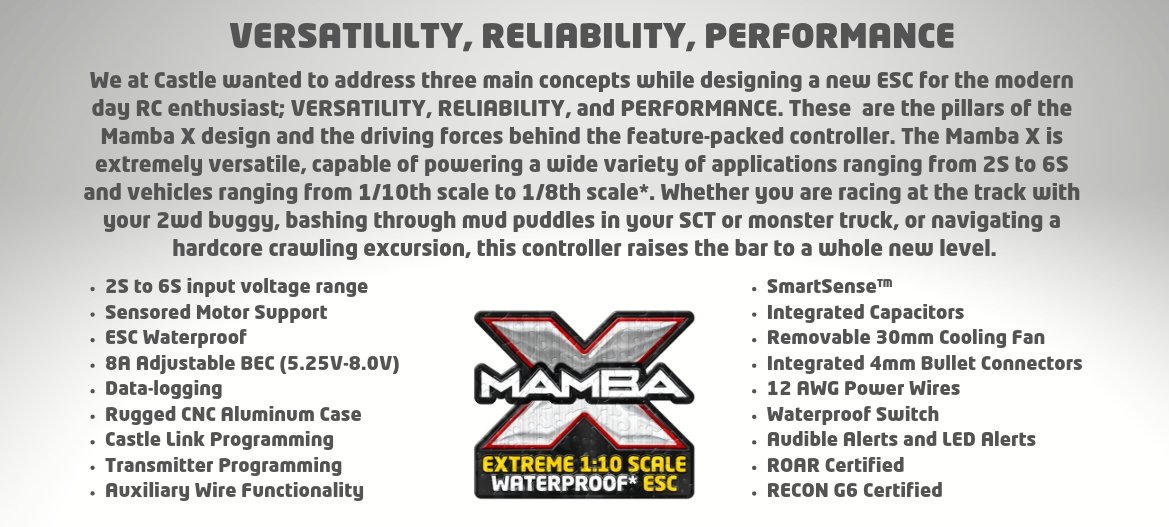 ---
FEATURES

Data-Logging

Enabled by default, the Mamba X captures and records performance data from your vehicle. This allows you to view a detailed turn-by-turn record of what your ESC actually experienced during the run. You will be able to record real-time data such as motor RPM, battery current and voltage, ESC and motor temperature, throttle input, and more. Download and analyze the collected data via Castle Link and make adjustments to maximize both performance and battery life. You can use the Quick Connect Duo (sold separately) to allow you to access both wires into a single Castle Link connection.
Auxiliary Functionality:


The Mamba X allows "on-the-fly" adjustments to be made through the AUX wire once enabled in Castle Link. Once you have selected an AUX wire function, that setting can then be tuned from your transmitter while driving. Torque control, max throttle, max brake and drag brake adjustments are a sampling of the available modes. This real-time tuning allows you to quickly and easily fine-tune your system. Click here for additional information.

Programmability:


For over 20 years Castle engineers have been setting the bar for industry leading software functionality. The Castle Link Programming Suite is your ticket to creating the perfect setup. To gain access to the host of tuning parameters, simply redeem the coupon for the Castle Link adapter included with your Mamba X purchase or download the Castle Link iOS App and purchase the B-Link Bluetooth Adapter. Download the simple to install software from our website and you are ready to personalize your controller's parameters. Don't forget to use the "check for updates" feature in Castle Link to download new software as it becomes available. New features are yours at no cost, a perk for choosing Castle. Click here for settings overview for the Mamba X ESC.


Firmware Updates:


Users will receive free access to all firmware updates, including added features sets using the Castle Link USB Programming Kit or the Castle Link iOS App and a B-Link Bluetooth Adapter. Click here for software versions available for Mamba X.


SMARTSENSE™ Technology

When paired with a Castle 4-POLE 12-SLOT SENSORED MOTOR SMARTSENSE™ software, enabled by default in the Castle Link Programming Suite, will use the motor's sensors to provide smooth starts, excellent torque, and low-speed drivability. Once the motor is turning, it seamlessly transitions to Castle's ULTRA-EFFICIENT sensorless mode with ELECTRONIC TIMING. Smooth sensored startups and high-efficiency sensorless running makes the Mamba X system produce more power and less heat. QUIETSENSE™ is an innovative advancement in the design of sensored motors to deliver the highest precision and most efficient startup.

Power System Alerts:

Mamba X also features updated Audible Alerts that will notify you of possible issues with calibrations and error conditions to help diagnose problems in the field. Click here to see complete list.

Telemetry Ready:

Mamba X is telemetry ready, which means owners of Futaba T4PX Transmitters will be able to purchase the Castle Creations Telemetry Link for S.BUS2. Real-time data such as ESC temperature, voltages, and RPM can be monitored to ensure performance advantages and spare you the "unknown" parameters that all R/C enthusiasts experience at some point. Telemetry data provides another level of protection and can increase performance.

Industry Leading Warranty:


The Mamba X is proudly designed and manufactured in Olathe, Kansas and is backed by Castle Creations' 1-year warranty and unparalleled "make-it-right" customer support. Call us, email us, or walk in our front door – we're here to help. Click here for additional information about our Tier 1 and Tier II warranty.

Rugged and Element Proof:


Housed in a rugged CNC-machined aluminum case and then potted in waterproof epoxy. This not only protects the electronics but ensures any heat generated in the controller can easily be dissipated through the case.

Powerful Integrated BEC:


The high performance Mamba X includes an integrated and powerful 8A adjustable BEC and can push the most extreme 1/10th scale setups and 1/8th scale* race buggies.

*In 1:8th scale setups, the Mamba X is intended to be used for off-road racing in buggies weighing up to 9 lbs (including batteries and ready-to-run). In these 1/8th scale racing setups, the Mamba X should be run at 4S Lipo (16.8V) max and is recommended to be paired with the Castle 1512-1800Kv (P/N: 060-0062-00) or Castle 1515-2200Kv (P/N: 060-0063-00) motor, with appropriate gearing only. Click here to learn more about 1:8th scale setups!
Mamba X Crawl/Trail Combos
Mamba X 1:10th Scale Race Combos
Mamba X Serviceable Parts