FREE U.S. SHIPPING FOR ORDERS OVER $99 - USE CODE: SHIPFREE DURING CHECKOUT
Home

>

MONSTER X 25.2V ESC, 8A PEAK BEC W / 1512-2650KV SENSORED MOTOR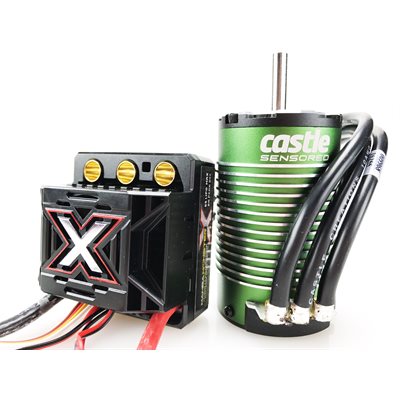 Press and move to zoom
Mouse over image to zoom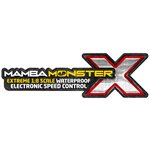 MONSTER X 25.2V ESC, 8A PEAK BEC W / 1512-2650KV SENSORED MOTOR
Product #: 010-0145-04
Putting the X in Extreme!

The Mamba Monster X provides even more extreme performance than the Monster 2. Most notable is the addition of a new, programmable Auxiliary Wire that allows the user to make "on-the-go" adjustments to several settings, such as torque control and reverse enable or disable. This new Auxiliary Wire allows you to fine-tune the performance of your Monster X ESC right from your compatible transmitter using an auxiliary channel on your receiver. The Monster X also features updated Audible Alerts that will notify drivers of possible issues with their calibrations and error conditions to help diagnose problems in the field. The ESC can also be configured to run sensored brushless motors in addition to sensorless and brushed.

Our Mamba Monster X ESC and 1512-2650Kv are paired together to overpower 1:8th scale buggies and on-road cars weighing up to 9lbs (with batteries, ready-to-run) as well as 1:10th scale monster trucks. The 1512-2650Kv version is capable of 2S to 4S LiPo and you will have all the power your vehicle demands with the smoother throttle control of a sensored motor. Mamba Monster X takes Castle's legendary "monster" performance to a whole new level.
ESC FEATURES:
Input Voltage range 2s-6s (4s with included motor)

Powerful integrated 8A Adjustable BEC (5.25V-8.0V)

Data Logging capability to capture and record performance data from your vehicle

Waterproof design for running in all weather conditions and elements.

Factory installed, fully removable 30MM cooling fan

Convenient transmitter programming for six common adjustable settings

Easily program and update ESC with use of Castle Link USB (coupon included for free USB with purchase) and freely downloadable Castle-Link Windows™ program.
Optional smartphone-based programming with the

B-LINK™

Bluetooth Adapter (sold separately and Castle Link all available on Google Play or Apple App Store)
Telemetry Ready Compatible with 010-0152-00 Telemetry Link for Futaba S.Bus2 and Futaba T4PX and T7PX transmitters
Auxiliary Wire Functionality allows for "on-the-fly" adjustments such as Max Power and Max Brake.
Audible Alerts that will notify you of possible issues with calibrations and error conditions.

Designed and manufactured in Olathe, Kansas and is backed by our 1-year warranty.
*Not intended for operation while submerged in liquid. If unit is operated in wet conditions, rinse with fresh water to remove dirt or corrosives, then fully dry unit.
MOTOR FEATURES:
Input Voltage range: 2s-4s LiPo

Rebuildable design allows replacement of front end bell/bearing assembly or rotor/shaft assembly.

High-Strength Kevlar Wrap and 180C Grade Neodymium Sintered Magnets

Oversized NMB Bearings and High-Temperature, High-Purity Copper Windings

Castle 10 AWG, High-Strand-Count Silicone-Insulated Wire with 6.5mm Bullet Connectors

High-Performance 0.2mm Steel Lamination Stacked Stator

Oversized, low-resistance, gold-plated solder tabs

Sensor board with High Quality Temperature-Stabilized Sensors

T6 Aluminum CNC Machines Front/Rear End bell

Proudly Designed and Supported in Kansas, USA.

Backed by Castle Creations' 1-YEAR WARRANTY
Mamba Monster X Combo Includes:
Mamba Monster X ESC

1512-2650Kv Sensored Motor

210mm length sensor wire (for sensored operation)

Coupon for free Castle Link USB adapter

Driver's Ed and Quick Start Guide

Castle Decals
Waterproof :

Yes

Telemetry Capable :

Yes

Data Logging :

Yes

Auxiliary Wire :

Yes

Minimum Input Voltage :

2S

Maximum Input Voltage :

4S

Sensored Capable :

Yes

Recon G6 Certified ESC :

No

ROAR Certified ESC :

No

CRYO-DRIVE :

No
Availability: This item is in stock.
You may also be interested in