Home

>

Berg 7P Seven Channel Horizontal Pin Receiver - GS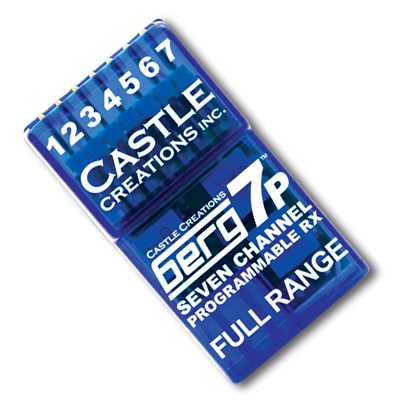 Press and move to zoom
Mouse over image to zoom
Berg 7P Seven Channel Horizontal Pin Receiver - GS
Product #: 010-0041-00
UPC code:850866000160
The standard of excellence in receiver technology
The Berg 7P provides the solid precise control and superior noise rejection every modeler demands. The same proven microprocessor driven True Digital Signal Processing (TDSP) and Transmitter Signal Recognition (TSR) functions that have made the Castle Creations Berg 4 the industry standard in full range micro receiver performance ensure flight after flight of glitch-free operation. This is the Horizontal Pin version of the Berg 7P Receiver. Requires Berg Micro Crystals.

Castle Link compatible
Connect the Berg 7P to your Castle Link for unprecedented control of its numerous programmable functions! Easy channel mapping and adjustable servo response rate are the initial basic features. There's also a "real time" slider control on screen to set your fail safe servo positions and view your transmitter's signal outputs as you move your radio's control sticks. The Berg 7p has seven output channel ports, but you can replace any of them with channels 8 and 9 using the Castle Link. Look for even more amazing programmable features to be added in the future.
Additional Features:
Programmable Fail Safe
Triple tuned RF circuitry
True Digital Signal Processing (TDSP)
TDSP is a proprietary process developed by Peter Berg. In addition to highly advanced triple-tuned RF filtering hardware, Castle Creations Berg receivers use a microprocessor and sophisticated software algorithms to filter the incoming signal. The system decides which signals are valid and which are not. Most standard FM receivers simply pass on the invalid signals to the servos as a "glitch". TDSP receiver technology essentially eliminates glitches and provides a new level of confidence that you will only get with Berg by Castle Creations.
Transmitter Signal Recognition (TSR)
The receiver "learns" the characteristics and specific signal signatures of your transmitter when you power it up. After that, the receiver will only listen to your transmitter*.
*Note: If a similar transmitter on the same channel is powered up and is CLOSER to your receiver than your own transmitter, loss of signal/fail safe may be experienced.
Technical Specs
No. of channels:
7
Channel outputs:
1-2-3-4-5-6-7
Filtering:

Triple tuned RF circuitry
Steep flank 8 pole IF ceramic filter set
True DSP filtering in the microprocessor decoder with adaptive algorithms based on signal/noise ratio of the received signal

Sensitivity:
Better than 1.2uV
Voltage Range:
3V - 8.4V
Case type:
Translucent Polycarbonate
Size:
L: 1.5" (38.1mm)
W: 0.85" (15.2mm)
H: 0.5" (8.9mm)
Weight w/wires:
.33 oz (9g)
Crystal:
Berg Micro only
For support, frequently asked questions, technical documents, and more, visit our support site.
Availability: This item is in stock.