Home

>

Mamba Monster 2 Extreme 1:8 Combo with Neu-Castle 1512-2650Kv Motor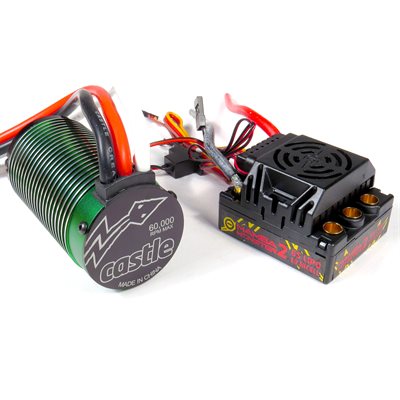 Press and move to zoom
Mouse over image to zoom
Mamba Monster 2 Extreme 1:8 Combo with Neu-Castle 1512-2650Kv Motor
Product #: 010-0108-02
UPC code:819326010385
THIS PRODUCT HAS BEEN DISCONTINUED. The replacement part number is 010-0108-04. This page is for informational purposes only.
Mamba Monster 2 is capable of 2S LiPo to a maximum of 6S LiPo (4s maximum with included 2650kv motor). It's also waterproof*, so you can run your vehicle across the morning dew, through soggy snow, or just about anywhere else you'd be interested in running a 1:8 scale RC buggy or truck. It features an easy-access case allowing you to replace fans quickly, if necessary. Additionally, Mamba Monster 2 features solder posts, so changing battery wire length and direction is simple for an even more custom install.
Powerful Combination
This combo includes the Mamba Monster 2 controller and the Neu-Castle 1512-2650Kv motor, which features:
High quality oversized bearings
Sintered neodymium magnets
Superior electromagnetic design
Rigorous quality control
The included 1512-2650kv motor is intended for up to 4s operation in vehicles weighing less than 9lbs.

*Not intended for operation while submerged in liquid. If unit is operated in wet conditions, rinse with fresh water to remove dirt or corrosives, then fully dry unit.
Availability: Discontinued
Technical Specs
Controller
Input Voltage Range:
MIN: 2S LiPo
MAX: 6S LiPo (4S max with 2650Kv motor)

BEC Specifications:
User selectable output between 5 and 7 volts; default 5.5 volts

Operating Environment:
Waterproof* design allows for use in nearly any environment.
Brake:
Proportional
Reversible:
Yes, but may be disabled for racing.

On/Off Switch:
Yes
Cooling Fan:
Yes, factory equipped, fully removable** (see Product Use Statements below)
ESC Size:
Length: 2.19" (56mm)
Width: 1.86" (47mm)
Height: 1.33" (34mm)
ESC Weight (w/wires):
3.93 oz. (111.5g)
Connectors:
6.5mm female bullets for motor connection.
Items Needed for Operation:
Battery Connector required, 6.5mm Castle Connectors are recommended.
Product Use Statements:
*Although Monster 2 and Castle brushless motors are waterproof, they are not intended for operation while completely submerged in liquid. They can corrode when exposed to corrosive materials, such as salt water. Always rinse the ESC and motor with clean water after exposure to corrosives or dirt. While the motor and controller may be waterproof, we suggest users confirm that the rest of their vehicle, including the batteries, servos, radio and chassis are also waterproof before exposing them to liquids of any kind.

**The cooling fan must be removed prior to driving in wet conditions. It is not waterproof.
Application Guidelines:
Intended for up to 6S (25.2 Volt) operation in vehicles weighing less than 15 lbs, with batteries, ready-to-run.
Recommended Motors:
Combo includes Neu-Castle 1512 2650Kv: Max Cells: 4S Lipo or 12 NiMH
Max. Recommended Vehicle Weight:
Less than 15 lbs, with batteries, ready-to-run. (9lbs with included 2650kv motor)

Programmability:
Fully programmable Castle feature set using Castle Link USB adapter (coupon for free Link included) and freely downloadable Castle Link Windows software.
Telemetry Link Capable:
No
Tech Notes:
Not all LiPos are created equal, and surge ratings should never be used to determine a pack's suitability for a brushless application. Use the CONTINUOUS C rating only. Mamba Monster setups frequently hit 100+ amps in peaks. We strongly suggest using 5,000 mAh or larger LiPo cells with a discharge rating of at least 30C (or high quality 25C batteries such as Traxxas® Power Cells®). Our experience suggests using only mild gear ratios with NiMH cells. Do not attempt to use NiMH cells in extreme setups.
Motor
Input Voltage Range:
MIN: 2S LiPo; MAX: 4S LiPo (see Application Guidelines below)
Kv:
2650
Max. RPM:
60,000
Motor Size:
Length: 2.68" (68mm)
Diameter: 1.57" (39.98mm)
Shaft Size:
Diameter: 5mm, Length: 20mm
Weight (w/wires):
15 oz. (452.2g)
Mounting Hole Specifications:
3mm screw holes @ 1" (25.4mm) spacing.
Cooling Fan:
Available, but not included
Connectors:
6.5mm male bullets.

Items Needed for Operation:
N/A
Product Use Statements:
N/A
Application Guidelines:
The ESC and motor are intended for 4S (16.8 Volt) operation in Buggy and On road vehicles weighing 9lbs or less with batteries, ready-to-run.
Max. Recommended Vehicle Weight:
9 lbs (with batteries, ready to run)
Tech Notes:
Monitor motor temperatures closely; overheating a motor will cause permanent damage to the magnets. Never exceed 180° F on the the motor or ESC.

Castle Creations, Inc. warrants this product to be free from manufacturing defects for a period of one year from date of purchase.

This is a high power product with the potential to be very dangerous. Please read the safety information before use. This product may contain chemicals known to the State of California to cause cancer and or birth defects or other reproductive harm.

U.S. Patent # 7400103, 7492122, 7579796, 7740516, 8287328, 8678875, and 8905814 B2 - Other patents pending.

Controller designed, and circuit boards manufactured, in Olathe, Kansas USA.
Controller assembled in Mexico.

Motor designed in Olathe, Kansas USA.
Motor made in China.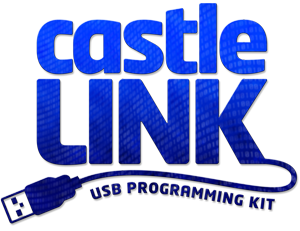 Castle Link Compatible
With the Castle Link USB Programming kit you can use your Windows™ PC to easily program your controller. Adjustable settings include:
Throttle
Braking Curve
Drag Brake
Auto LiPo cutoff
Punch Control
Reverse Type
Motor Type
Additional Castle Link benefits include:
Access to all firmware updates, including added features sets released from Castle Engineering, at no charge.
Intuitive Demo Mode capability
Ability to save setup profiles for later use