Welcome to our new site! If you find errors or want to leave feedback, please submit them here.Thank you!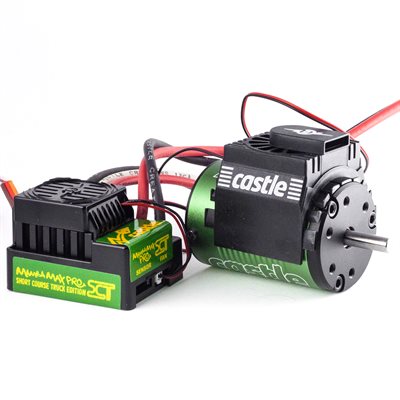 Press and move to zoom
Mouse over image to zoom
Mamba Max Pro SCT Extreme 1:10 Scale Combo with Neu-Castle 1410-3800Kv (5mm shaft version)
Product #: 010-0096-00
UPC code:855773002832

For the Love of Pure Speed!
Mamba Max Pro is our extreme 1:10 brushless ESC capable of operating at up to 6S, with a 3.5A Peak BEC, and featuring SMARTSENSE™ operation. SmartSense uses the motor sensors to start the motor and then it switches over to Castle's ultra powerful and efficient dynamic sensorless mode which boosts motor efficiency, so your motor produces more power and less heat. Sensored Only mode runs sensored motors using sensored timing only.
C.H.E.A.T. MODE (Castle High Energy Advanced Timing)
This modeallows users to electronically advance their sensored motor's timing to extreme settings. This can often yield that extra bit of power needed to win the race. But remember, extra power equals extra motor heat.
The difference between Sensored and Sensorless
Castle's Sensorless controllers offer best in class start up and braking which are fine for most users. Sensored-only motor operation cannot deliver maximum efficiency. Sensors are terribly inaccurate for motor timing purposes as the motor's magnetic fields change under load or at speed; that's where Sensorless operation shines. Sensorless is also just more dependable. There are fewer wires and connections that need to survive the incredibly rough treatment most RC vehicles endure. The racing world's rules require Sensored motors, and they can offer slightly better start up and braking performance. Mamba Max Pro offers the ultimate in flexibility: use it with all your 1:10 motors - sensored or sensorless.
Mamba Max Pro is approved for R.O.A.R. racing with firmware version 1.26.
This combo was specifically created for SCT applications running 2s LiPo and includes a Mamba Max Pro SCT ESC and Neu-Castle 1410-3800Kv motor with a 5mm shaft.
Waterproof :

No

Telemetry Capable :

No

Data Logging :

No

Auxiliary Wire :

No

Minimum Input Voltage :

2S

Maximum Input Voltage :

3S

Sensored Capable :

Yes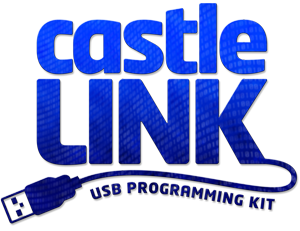 Castle Link Compatible
With the Castle Link USB Programming Kit you can use your Windows™ PC to easily program your controller. Adjustable settings include:
Throttle
Braking curve
Drag brake
Auto LiPo cutoff
Punch Control
Reverse Type
Motor Type
Additional Castle Link benefits include:
Access to all firmware updates, including added features sets released from Castle Engineering, at no charge.
Intuitive Demo Mode capability
Ability to save setup profiles for later use
Technical Specs
Controller
Input Voltage Range:
MIN: 2S LiPo
MAX: 6S LiPo (25.2V)
(3s maximum for included 1410 - 3800kv motor)

BEC Specifications:
3.5A Peak BEC
Operating Environment:
N/A
Brake:
Proportional with adjustable curve
Reversible:
Yes, but may be disabled for racing
On/Off Switch:
Yes

Cooling Fan:
Yes, included
ESC Size:
L: 1.84" (46.85mm)
W: 1.46" (37.2mm)
H: 1.25" (31.96mm)
ESC Weight (w/wires):
2.8 oz. (81g)
Connectors:
4mm bullets
Items Needed for Operation:
Battery connector

Product Use Statements:
Not intended for use in wet conditions, ESC is not waterproof

Application Guidelines:
Intended for up to 2S (7.4 Volt) operation in short course trucks weighing less than 6.5 lbs, with batteries, ready-to-run.

Recommended Motors:
Combo includes Neu-Castle 1410 3800Kv: Max Cells: 3S Lipo or 12 NiMH

Max. Recommended Vehicle Weight:
6.5lbs.
Programmability:
Fully programmable Castle feature set using Castle Link USB adapter (sold separately) and freely downloadable Castle Link Windows software.
Telemetry Link Capable:
No
Tech Notes:
N/A
Motor
Input Voltage Range:
2-3S LiPo
Kv:
3800
Max. RPM:
N/A
Motor Size:
L: 2" (52.7mm)
Diameter: 1.4" (36mm)
Shaft Size:
5mm
Weight (w/wires):
8oz. (227g)
Mounting Hole Specifications:
3mm screw holes @ 1" (25.4mm) spacing

Cooling Fan:
Yes, included
Connectors:
4mm bullets

Items Needed for Operation:
N/A

Product Use Statements:
N/A

Application Guidelines:

Extreme performance in 2WD SCT/CORR vehicles on 2S. Perfect for racing 4WD SCT/CORR vehicles on 2S in high temperature environments. Max recommended vehicle weight 6.5 lbs.

Max. Recommended Vehicle Weight:
6.5lbs.
Tech Notes:

While the Mamba Max Pro controller included in this package is rated for use up to 6S, the 1410 motor is rated for use up to 3S LiPo MAX.
Castle Creations, Inc. warrants this product to be free from manufacturing defects for a period of one year from date of purchase.

This is a high power product with the potential to be very dangerous. Please read the safety information before use. This product may contain chemicals known to the State of California to cause cancer and or birth defects or other reproductive harm.

U.S. Patent # 7400103, 7492122, 7579796, 7740516, 8287328, 8678875, and 8905814 B2 - Other patents pending.

Controller designed, and circuit boards manufactured, in Olathe, Kansas USA.
Controller assembled in Mexico.

Motor designed in Olathe, Kansas USA.
Motor made in China.
You may also be interested in