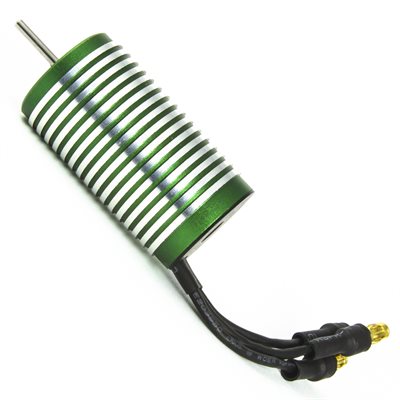 Press and move to zoom
Mouse over image to zoom
1:18th Scale Motor, Inrunner, 0808-8200kV
Product #: 060-0039-00
UPC code:819326010217

Mini Size, Massive Power!
Our 4 pole 0808 series motors are intended for on-road and off-road applications running up to 3S LiPo and weighing in at up to 2.5lbs. 0808 motors are available with in combos with both of our race-proven Micro ESCs. For 2WD and lighter 4WD vehicles (<1.5lbs) we recommend the Sidewinder Micro 2, and for heavier 4WD vehicles (>1.5lbs) the Mamba Micro X is recommended. The 0808 series motors delivers tremendous performance for an extremely affordable price.
Minimum Input Voltage :

2S

Maximum Input Voltage :

2S

Sensored Capable :

Yes

Recon G6 Certified Motor :

No

ROAR Certified Motor :

No
Availability: Not available
Technical Specs
Input Voltage Range:
2S LiPo, 4-7 cell NiMH
Kv:
8200
Max. RPM:
N/A
Size:
Length: 1.5" (38mm)
Diameter: 0.79" (20mm)
Weight (w/wires):
1.8 oz. (50g)
Shaft Size:
Length: N/A
Diameter: 0.08" (2mm)
Mounting Hole Specifications:
2.5mm @ 1/2", 14mm, 5/8"

Cooling Fan:
No
Connectors:
3.5mm gold connectors (female connectors included)
Items Needed for Operation:
You must add the connector of your choice to the battery leads. We recommend a high current connector rated for at least 40 amps.

Product Use Statements:
Max. operating temperature = 180°F (82°C)
Application Guidelines:
Up to 2S LiPo and weighing in at up to 2.5lbs.
Recommended ESC(s):
Mamba Micro X, Sidewinder Micro 2, sensorless controllers only
Max. Recommended Vehicle Weight:
N/A
Tech Notes:
N/A
Castle Creations, Inc. warrants this product to be free from manufacturing defects for a period of one year from date of purchase.

This is a high power product with the potential to be very dangerous. Please read the safety information before use. This product may contain chemicals known to the State of California to cause cancer and or birth defects or other reproductive harm.

Castle 0808 motor designed in Olathe, Kansas USA.
Castle 0808 motor made in China.
You may also be interested in